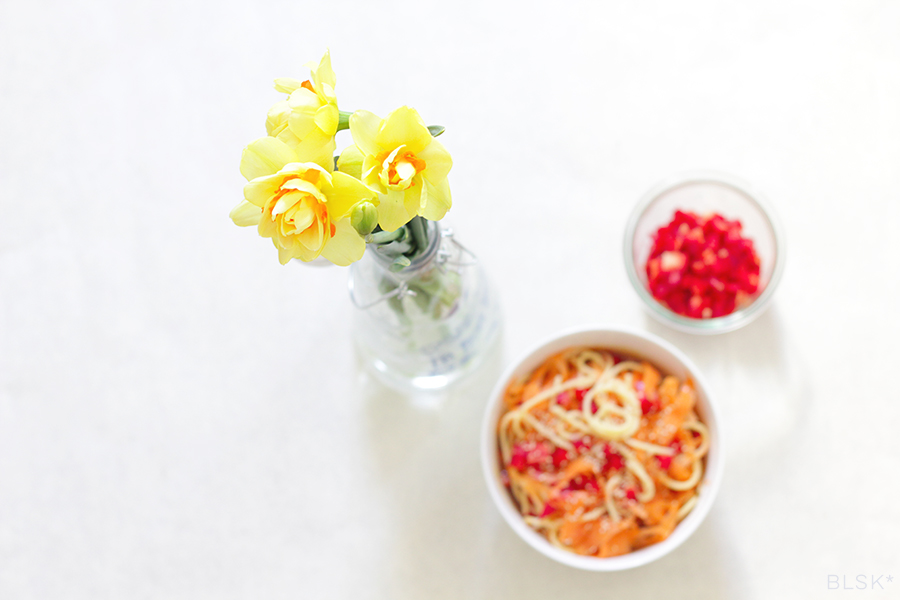 Les nouilles de soba sont d'origine japonaise et sont naturellement sans gluten car elles sont faites à partir de sarrasin (qui d'ailleurs n'est pas une céréale mais une plante. Le saviez-vous ?)
Soba noodles are Japanese and naturally gluten free as they are made of buckwheat (which is actually not a cereal but a plant. Did you know that?)
For 2 people
50 g of soba noodles
1 red pepper
2 large carrots
2 tbsp toasted sesame oil
the juice of a lemon
1 tsp tamari
2 tbsp miso
1 tsp sesame seeds
Build some water in order to cook the soba noodles by following the instructions of the packaging.
Peel and grate the carrot and prepare the pepper by taking out the seeds before cutting into pieces.
Meanwhile, prepare the sauce by mixing the oil, the tamari, the lemon juice and the miso. Then add the noodles and mix everything. Add then the vegetables and mix again.
Note: I found the miso in rigid shape as a vegetable bouillon but the recipe indicates that you can find it in liquid form, as oil. So I used a square of miso for 1/2 liter of water. 
Recipe adapted from Green Glam et gourmand by Rebecca Leffler (a must-have cookbook).
***
Pour 2 personnes
50 g de nouilles de soba
1 poivron rouge
2 grosses carottes
2 c. à c. d'huile de sésame toasté
le jus d'un citron
1 c. à c. de tamari
2 c. à c. de miso
1 c. à s. de graines de sésame
Faites cuire de l'eau pour faire cuire les nouilles de soba en suivant les instructions indiquées sur l'emballage.
Epluchez et râpez la carotte et nettoyez le poivron. Otez ses graines et sa membrane avant de le couper en morceaux.
Pendant ce temps, préparez la sauce en mélangeant l'huile, le tamari, le jus de citron et le miso, puis ajoutez les nouilles et mélangez le tout. Ajoutez ensuite les légumes et mélangez à nouveau.
Note : j'ai trouvé le miso sous forme rigide, comme un bouillon de légumes, mais la recette indique que l'on doit pouvoir le trouver sous forme liquide comme une huile. J'ai donc utilisé 1 carré de miso pour 1/2 litre d'eau.
Recette inspirée de Green Glam et gourmand de Rebecca Leffler (un livre de recettes must-have).
Tweet