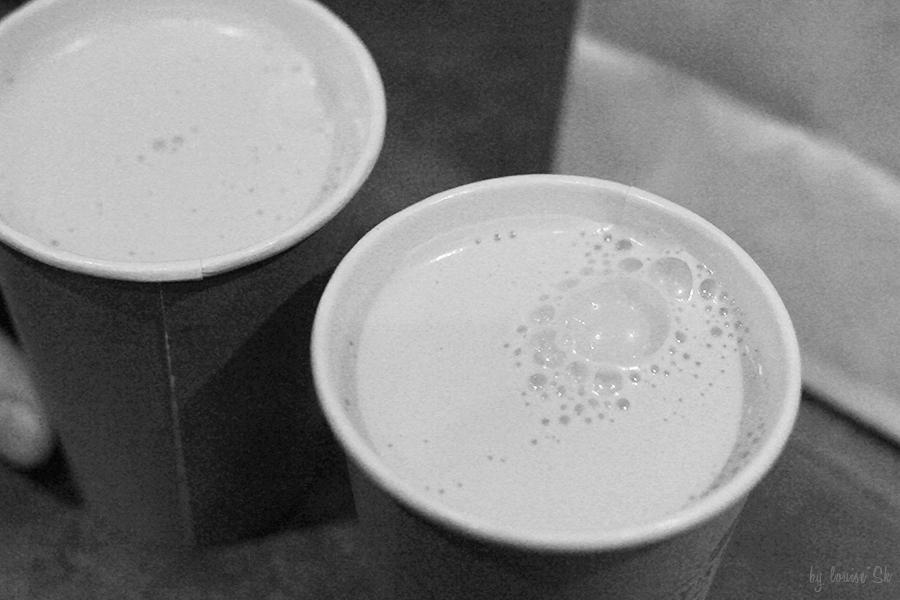 Tried some chai latte at that amazing coffee place..

While walking around in freezing Williamsburg, Aurélien and I passed by Toby's estate. I recognized it immediately from a blog article Kenza had written several years ago in the context of a collab, but can't seem to find it again. The picture of the wooden shelf, the large packed square-shaped room and the wide window had really made a strong impression on me. So we went inside. Then I connected the name with several coffee places I had seen serving coffee from 'Toby's estate'. We were in a real coffee roaster place.
A bit like Coffee collective in Denmark, Toby's estate offers a wide range of worldwide coffee beans, chosen with care. Their specialists now offer courses where you can learn how to brew you coffee, how to make lattes and so on. For companies which would like to welcome their guests with delicious hot cups of coffee, they have a whole crew ready and of course if you want to bring the coffee back home, you can get your beans to go (or French press if preferred). 
Drinking coffee is quite new for me as a habit, so I'm not familiar with all the origins and stuff. And call it a sin or not but we actually both ordered a chai latte instead of coffee. With no regret. It was so deliciously creamy, but not too thick. Sweet but light. Spicy but not overwhelming. I start wondering how I can ever have enjoyed a chai latte at Starbucks. This is the stuff. 
Toby's estate – 125 N 6th St, Brooklyn
En se baladant dans les rues glacées de Williamsburg, Aurélien et moi sommes passés devant Toby's estate. J'ai tout de suite reconnu l'endroit d'un article de blog que Kenza avait écrit il y a déjà quelques années pour une collab (que je ne retrouve pas). Les photos de l'étagère en bois, le grand espace carré rempli de monde et la grande baie vitrée m'avaient vraiment marqués. Donc nous sommes entrés. Là j'ai fait le lien entre le nom et plusieurs cafés qui proposaient le café de 'Toby's estate' dans NYC. Nous étions donc chez un vrai torréfacteur.
Un peu comme le Coffee collective au Danemark, Toby's estate propose un large choix de fèves, choisis avec précaution. Les spécialistes proposent également des cours pour apprendre à préparer son propre café, à faire des lattes etc. Pour les entreprises qui souhaiteraient accueillir leurs invités avec un délicieux café, une équipe entière est disponible et bien sûr, si vous voulez ramener du café pour chez vous, vous pouvez prendre vos fèves à emporter (ou sous format moulu).
Boire du café est une habitude nouvelle chez moi donc je ne suis pas familière avec toutes les origines et tout ça. Et pêché peut-être, mais nous avons tous les deux commandés un chai latte au lieu d'un café. Sans regret. C'était délicieusement crémeux mais pas trop épais. Sucré mais léger. Epicé mais pas écoeurant. Je commence à me demander comment j'ai pu un jour savourer un chai latte chez Starbucks. Là, on parle de chai latte.
Toby's estate – 125 N 6th St, Brooklyn