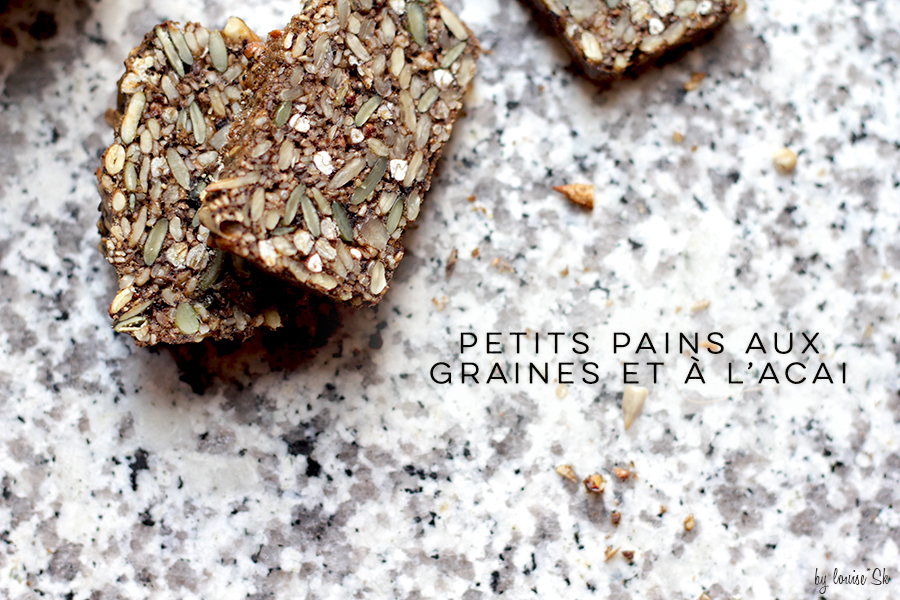 Petits pains scandinaves aux graines et à l'acai // Small scandinavian seedbreads with acai
Qu'est-ce que l'acai ? Un züber-aliment du Brésil. Les baies acai sont pleines de vitamines, de minéraux et d'antioxydants. On les appelle "super-aliments" car de très faibles quantités suffisent pour bénéficier de leurs bienfaits. Rebecca Leffler, auteur du très bon livre de recettes "Green, glamour and gourmande" l'appelle la "petite baie anti-âge" car l'acai est pleine d'acide oléique qui confère aux cellules de notre peau une grande souplesse.
Elle s'utilise souvent en smoothies, jus de fruits et pourquoi pas pour donner un goût sucré à vos pains comme ici.
Pour 6-8 petits pains
50 g de graines de chia
50 g de graines de courge
50 g de graines de lin
50 g de graines de tournesol
50 g de graines de kasha
1 c. à c. d'acai en poudre
3 c. à s. d'huile d'olive
1 pincée de sel
Optionnel : 30 g de raisins secs
Optionnel : 30 g d'amande coupées en petits morceaux
Préchauffez votre four à 180°C et mélangez tous les ingrédients dans un bol. Répartissez votre masse dans des moules à la forme de votre choix. J'aime bien faire un plus gros pain et en couper des tranches également ou en petites barres allongées pour un en-cas au bureau. Pour les petits pains, je les fais cuire environ 25-30 minutes généralement. Si je fais un pain entier, plutôt autour de 40 minutes.
________–*–________
What is acai? It's a züber-food from Brazil. The acai berries are filled with vitamins, minerals and antioxydants. They are called super-foods because you only need very little of them to gain from their health benefits. Rebecca Leffler, author of the very good cookbook "Green, glamour and gourmande" (in French) calls it the "little anti-age berry" as it contains a lot of oleic acid which gives a lot of smoothness to our skin cells.
It is usually used in smoothies, fruit juices and why not to give a slightly sweet taste to your seedbreads like here.
For 6-8 breads
50 g chia seeds
50 g pumkin seeds
50 g flaxseeds
50 g sunflower seeds
50 g kasha (grilled buckwheat)
1 tsp powder of acai
3 tbsp olive oil
1 pinch of salt
Optional: 30 g dried raisins
Optional: 30 g almonds cut into small pieces
Preheat the oven on 180°C and blend all the ingredients together in a mixing bowl. Dispose the dough in the forms of your choice. Sometimes, I like making one large bread and slice it up or even shape the bread in small bars, to take with me to work. I bake the small breads for 25-30 minutes approx. and 40 minutes if I make one large bread.
Tweet