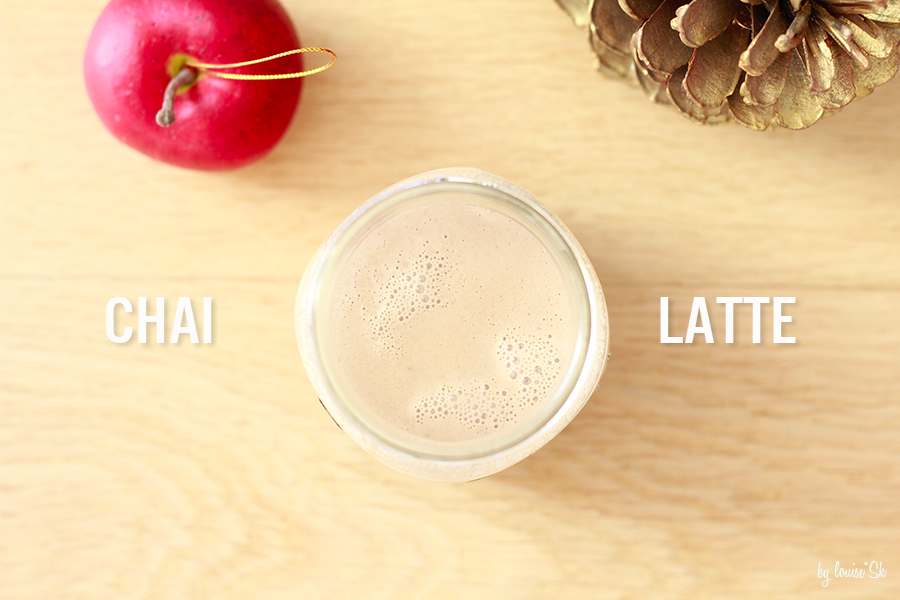 Chai tea & chai latte au lait de riz // Chai tea & chai latte with rice milk
Chai tea latte avec (with) Label Mademoiselle
Le sapin est décoré, les gâteaux sont au four, le jazz de Noël joue à la radio et le feu est allumé dans la cheminée. On sent l'ambiance de Noël qui est là et les cadeaux pourront bientôt être déballés !!
Pour vous réchauffer et vous ambiancer davantage, voici 2 recettes de chai latte. L'une est un vrai chai tea latte à base de thé avec épices, l'autre est un lait de riz chaud avec le mélange d'épices pour gâteaux, mais le goût n'en est pas altéré.
Pour la première recette, nous nous sommes retrouvées avec Margaux du blog Label Mademoiselle, pour une belle après-midi de cocooning à la campagne.
La recette du « Chaï » maison provient du blog associatif Québécois « Manger Santé-Bio ». Une asso qui met en avant l'alimentation saine, éthique et locale. On adore.
2 litres d'eau
70 g de gingembre frais pelé et coupé en morceaux
40 g de thé noir Darjeeling
6 à 8 c. à soupe de cardamome moulue
8 bâtons de cannelle
1 c. à Soupe de cannelle moulue
1/2 c. à café de clou de girofle moulu
1/2 c. à café de noix de muscade moulue
2 pincées de cumin moulu ou en graines
3 pincées de poivre noir moulu
1/2  c. à c. thé d'essence de vanille (optionnel)
Préparation :
Dans 2L d'eau, bouillir à feu doux le gingembre et les bâtons de cannelle pendant 15 min. Ajoutez les autres épices (tout sauf le thé noir et l'essence de vanille) et laissez bouillir 7 min. Ajoutez ensuite le thé noir et l'essence de vanille et faire bouillir encore 2 minutes puis retirer du feu.
Filtrez la décoction à l'aide d'une passoire fine. Vous pouvez conserver ce concentré de thé au réfrigérateur dans un bocal en verre hermétique pendant une bonne semaine.
Pour servir ce thé de Nöel, ajoutez du lait de riz (ou lait de soja, lait d'amande…allez y selon vos goûts, environ 2/3 de thé concentré pour 1/3 de lait). Ajouter ensuite du sirop d'agave pour sucrer délicatement votre thé. (Vous pouvez évidemment le remplacer par du sucre blond).
Pour la seconde, rien de plus simple. Il vous faut :
1 tasse de lait de riz bio
1 c. à c. de mélange d'épices moules pour gâteaux
Faites chauffer le tout à feu doux dans une petite casserole pendant 5 minutes. Dégustez au coin du feu avec un bon bouquin.
 ***
The tree is decorated, the cakes are in the oven, xmas jazz is playing on the radio and the fire is on in the chimney. You can feel the xmas spirit is here and we'll soon be allowed to open the presents!!
To get warmer and even more in the xmas spirit, here are 2 chai latte recipes. One is a real chai latte based on tea with spices, the other is simply hot rice milk with spices for cake, but the taste is nevertheless not altered.  
For the first recipe, Margaux fromLabel Mademoiselle and I gathered for a cosy afternoon on the countryside.
 The « Chaï » homemade recipe comes from the French-Canadian blog « Manger Santé-Bio« .  An organization which puts forward healthy, ethical and local food. We love it.
2 L of water
70 g of fresh ginger peeled and cut in pieces
40 g of black Darjeeling tea
6 to 8 tbsp ground cardamom
8 cinnamon sticks
1 tbsp ground cinnamonn
1/2 tsp ground nutmeg
1/2 tsp ground clove
2 pinches of ground cumin
3 pinches of ground black pepper
1/2 tsp of vanilla scented vanilla (optional) 
Preparation:
In 2L of water, boil the ginger and cinnamon sticks on a low heat for 15 minutes. Add the other spices (except the black tea and the vanilla essence) and let boil for 7 minutes. Add then the black tea and the vanilla essence and boil for another 2 minutes then retire from the fire.
Filter the decoction with a thin sieve. You can keep the tea in the fridge in a hermetic glass jar for about a week.
To serve this xmas tea, add the rice milk (or soy or almond… as you please. About 2/3 of concentrated tea for 1/3 of milk). Add then some agave syrup for a soft sweetening (or of course regular brown sugar).
For the second one, nothing easier. You need:
1 mug of organic rice milk
1 tsp ground mixed spices for cake
In a saucepan, heat all the ingredients on low heat for 5 minutes. Savor by the fireplace with a good book.
! Joyeux Noël !
!Happy Christmas!
Tweet