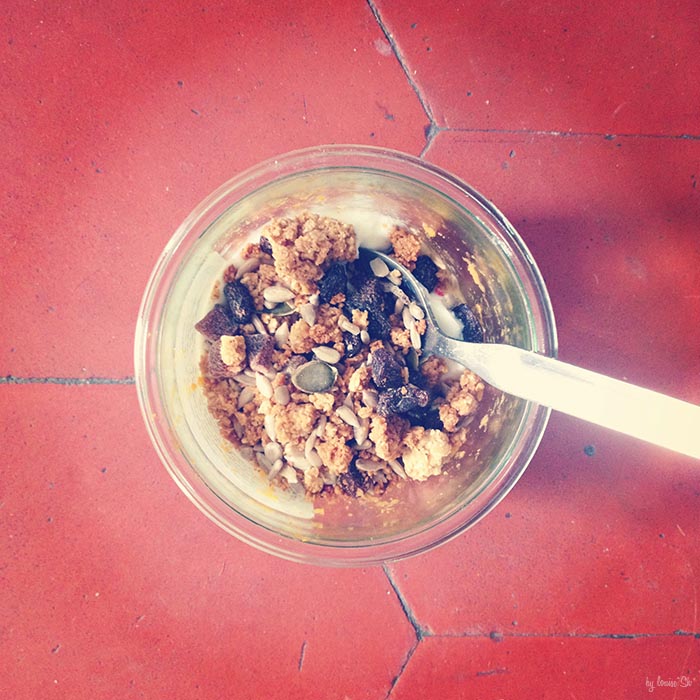 Le boulanger Eric Kayser a lancé en novembre 2013 sa gamme de produits sans gluten. Des pains, des granolas, des cookies… plein de produits qui font rêver les sans gluten.
4 pains étaient vendus lors de leur lancement, aujourd'hui 4 mois plus tard ils ont déjà dus changer leur local de fabrication pour pouvoir fournir les 200 pains demandés quotidiennement.
J'ai testé le pain raisins-noix et malgré le côté très dense difficile d'éviter dans du pain sans gluten, c'est pas trop mal. Le granola est bien, parfait avec un petit yaourt vanille comme je me suis fait au brunch (photo ci-dessous).
Eric Kayser – uniquement à la boutique Louvre Rivoli – 4 rue l'Echelle 75001 Paris
—
Baker Eric Kayser launched in Novembre 2013 his gluten free range of products. Breads, granolas and cookies… lots of products that make gluten free people dream.
While 4 breads were sold daily in the beginning , 4 months later they already had to change production locations in order to produce the 200 daily requested breads.
I tried the bread with raisins and nuts and though the texture is very dense (difficult to avoid in gluten free bread), it is not that bad. The granola is good, perfect with a vanilla yoghurt like I had for brunch (picture beneath).
Eric Kayser – only at the Louvre Rivoli shop – 4 rue l'Echelle 75001 Paris