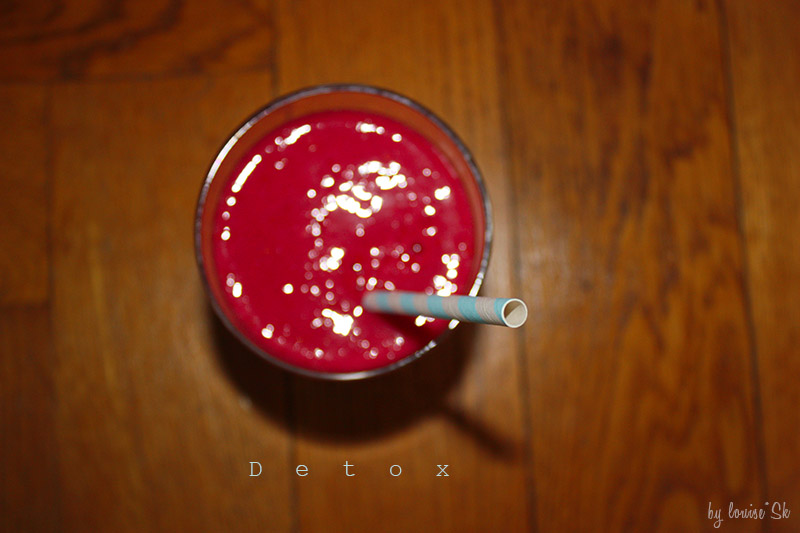 Pour les initiés, c'est une évidence – 1 à 2 fois par an en moyenne, on se fait une cure detox. Mais pourquoi ? Et quels sont les trucs à faire pour qu'elle soit le plus réussie possible ?
Ca aurait été utile d'avoir ce post AVANT de faire votre cure detox me dites-vous ? Heureusement, on en a encore de nombreuses devant nous ! Je vous rappellerai tout ça la prochaine fois, promis !
` On detoxe pour :
1/ Eliminer les toxines càd tous les éléments toxiques pour le corps : café, cigarette, sucre, farine, l'alimentation transformée… « Notre organisme est naturellement armé pour faire face à ces toxines en quantité limitée, mais avec le temps et suite à de trop fortes sollicitations, ces toxines peuvent réellement affecter notre santé. C'est la raison pour laquelle il est conseillé de débarrasser régulièrement l'organisme de ces substances toxiques. » (Detox Delight)
2/ Reprendre de bonnes habitudes. Quand je fais une detox, ça me rappelle que je peux vivre et fonctionner même en mangeant light et principalement fruit & légumes. Finalement, quand je me dis « vraiment je ne vais pas tenir jusqu'à 20h si je ne mange pas du chocolat là maintenant », bah si en fait, puisque j'y arrive en période de detox. Remettons les pendules à l'heure.
3/ Se faire une razzia de légumes, vitamines et minéraux et prendre bien soin de son corps pendant au moins quelques jours / semaines. On ne peut pas le faire trop souvent.
4/ Aider les organes à retrouver un meilleur fonctionnement sans encombrements / pollution. Il n'y a pas de risque de déficits en nutriment, au contraire « puisqu'on absorbe plus de nutriments avec les jus détoxe que lorsqu'on consomme une alimentation standard occidentale. » (Detox Delight)
5/ Retrouver une nouvelle énergie – souvent après les fêtes où l'on est un peu patraque et en manque de motivation. Rien de mieux pour retrouver la pêche !
` Voici les 5 conseils detox d'Alejandro Junger, le spécialiste detox de Gwyneth Paltrow.
Mangez des aliments complets et bio pour ingérer le plus de nutriments possible. C'est ce dont vous avez besoin pour votre foie et la detox en général.
Faites des respirations profondes et un peu de yoga.
Prenez quelques c.à s. d'huile d'olive vierge le soir pour stimuler votre foie. Cela va éliminer la bile et permettre une circulation fluide.
Si votre digestion se ralentit, buvez 1/2 shot d'huile de ricin puis 1 verre d'eau.
La peau a également besoin d'éliminer les toxines donc n'ayez pas peur de transpirer en faisant du sport ou en allant au spa.
Et j'ajouterais : 6. Buvez beaucoup de tisanes et beaucoup d'eau.
7. Gommage pour le corps, masque, crèmes hydratantes, huiles corporelles qu'on a pas encore testées… sortez toutes vos crèmes bio du placard !
 ` La detox parsemée tout au long de l'année ? Vous pouvez tout à fait : faites-vous de temps en temps des dimanches exclusifs jus de fruits et soupes, 2,5 litres d'eau (moi j'utilise une bouteille Evian pour mesurer), tisanes, yoga, exercices de respiration, massages… c'est la journée où l'on se pouponne de la tête au pieds !
For insiders, it's obvious – once or twice a year in average, you do detox. But why ? And what are the tips for a successful detox cure?
It would have been easier to write this BEFORE starting your detox cure, you say? Luckily there still are a lot ahead of us! I'll remind you of all this next time, promise!
` One detoxes in order to:
1/ Eliminate toxins ie elements which are toxic for the body: coffee, cigarets, sugar, flour, processed food… « Our body is naturally armed to cope with those toxins in limited amount, but with time and after excessive abuse, these toxins can really affect our health. That is the reason why it is good to get regularly rid off those toxic substances. » (Detox Delight)
2/ Reconnect with good habits. When I do a detox, it reminds me that I can live and function even when I eat light and mainly fruits & vegetables. In the end, when I'm telling myself that « I really need this piece of chocolate now otherwise I won't make it until diner at 8 PM », well yes I can actually, as I've done it during detox time. 
3/ Replenish the body with loads of vegetables, minerals and vitamins and take good care of one's body during at least a couple of days / weeks. You can't do it too often.
4/ Help organs get a better functioning back without pollution. There's no risk for deficit in nutrients, on the contrary « as one absorbs more nutrients with the detox juices than when one eats standard western food. » (Detox Delight)
5/ Gain new energy. It is quite common that after the holidays you feel down and lacking motivation. There's nothing better to get the energy back!
` Here are the 5 detox tips given by Alejandro Junger to Gwyneth Paltrow, her detox specialist.
Make sure you eat whole organic foods, which have the best chance of having all the nutrients needed for liver and general detoxification.
Do deep breathing or gentle yoga.
Take a couple of spoonfuls of extra virgin olive oil at night to help stimulate your liver to eliminate bile and keep its circulation flowing.
If your digestion slows down, you can accelerate things by drinking half a shot glass of castor oil followed by a glass of water.
The skin gets rid of many toxins so it is important to sweat, either by exercising or taking a sauna.
And I would even add : 6/ Drink a lot of herbal teas and water.
7/ Body peeling, masks, moisturizer, body oils you haven't tested yet… get all your organic beauty products out of the cupboard!
` Detox all year-round? You absolutely can: once in a while you can have Sundays where you exclusively eat juices & soups, 2,5 liters water (I use an Evian bottle for measurement), herbal teas, yoga, breathing exercises, and massages, this is the day where you treat yourself like a prince / princess from top to toe.
Tweet